Yat Tung Heen 24 Solar Terms Promotion – Savour the Chinese Winter Tonic Feast
(Hong Kong, 21 November, 2013) – From the period of Winter Begins to Great Cold, Yat Tung Heen culinary team hand-picked an array of seasonal and nourishing ingredients to present the Chinese Winter Tonic Feast to keep you warm and healthy from the inside out.

Winter Strengthen Kidney Qi
In nature, winter is dominated by yin qi and is a time for rest and storage. According to the Chinese Medicine theory, it is believed healthy in winter to nourish yin qi as well as to protect the yang qi inside the human bodies. It is also important to nurture kidney qi as it can be easily depleted during wintertime.

Double-boiled Soft-shell Turtle with Ginseng and Cordycep Flower HK$108 per person
Doubled-boiled with ginseng and cordycep flower, this savoury soft-shell turtle soup is good for nourishing yin qi, boosting blood circulation, removing internal heat and strengthening kidneys, which is suitable for people with winter cold hands and feet symptoms.

Honey-glazed Dried Oysters accompanied with Goose Webs and Layered Beancurd Sheets HK$268 per dish
Inspired by the western dessert mille-feuilles, this dish consists of three layers – honey-glased dried oysters, goose webs and layered beancurd sheets, which can help to nourish yin qi and warm the human kidneys and stomach. The taste of honey goes really well with the enticing aroma of dried oyster, gelatinous goose webs and the crispy layered beancurd.

Stewed Whole Duck stuffed with Lotus Seed, Lily Bulb, Pork, Yunnan Ham and Salted Egg HK$298 per dish
Indulge yourself in this traditional Cantonese dish – stuffed whole deboned duck with seasonal food ingredients like lotus seed, lily bulb stewed with savoury Yunnan ham and salted egg. It is especially good for removing internal heat and invigorating human spleen, lung and kidneys.

Double-boiled Bird's Nest with Milk in Whole Young Coconut HK$68 per person
In traditional Chinese medicine theory, kidney qi is responsible for ruling the bones, therefore it is also essential for human to keep their bones strong in winter. Sample this refreshing dessert which is composed by young coconut, bird's nest and fresh milk – a good source to obtain of dietary calcium that helps to strengthen human bones.

Sweetened Lotus Seed Tea with Egg, Fleece flower Root and Herba Taxilli HK$22 per person
Mild in nature, Herba Taxilli can tonify the human liver, kidneys and strengthen sinew and bone while Lotus seeds can fortify the spleen and kidney, this sweet soup is excellent for tonify the qi and boosting the blood circulation.

Other Highlights for Yat Tung Heen Winter Tonic Feast
| | |
| --- | --- |
| ‧Double-boiled Sea Whelk with Walnut, Dendrobium and Chinese Yam | HK$108 per person |
| ‧Stewed Fish Heads with Chicken Kidneys, Ginger and Spring Onion | HK$280 per dish |
| ‧Deep-fried Pork Ribs with Spicy Salt | HK$168 per dish |
| ‧Stewed Preserved Duck and Taro with Pumpkin in Clay Pot | HK$138 per dish |
| ‧Stewed Eel with Turnip and Garlic | HK$198 per dish |
| ‧Steamed Chicken with Brown Fungi and Lily Flower in Lotus Leaf | HK$198 per dish |
| ‧Sautéed Preserved Meat with Snow Beans and Chinese Celery | HK$118 per dish |
Double-boiled Soft-shell Turtle with Ginseng and
Cordycep Flower
Stewed Whole Duck stuffed with Lotus Seed, Lily Bulb, Pork, Yunnan Ham and Salted Egg
| | | |
| --- | --- | --- |
| | | |
| Honey-glazed Dried Oysters accompanied with Goose Webs and Layered Beancurd Sheets | | Sweetened Lotus Seed Tea with Egg, Fleece flower Root and Herba Taxilli |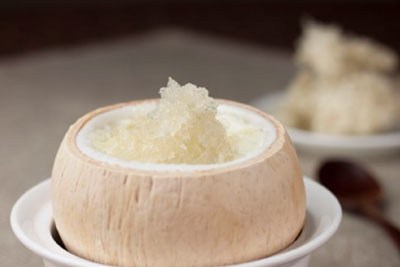 Double-boiled Bird's Nest with Milk in Whole Young Coconut
* Subject to 10% service charge
* Promotion is valid till 3 February 2013
About Yat Tung Heen

The renowned Cantonese restaurant presents an extensive menu of traditional Cantonese cuisine in elegant and contemporary surroundings. Try dim sum, double boiled soup, fresh seafood and much more. The popularity of this venue confirms its enduring quality. With private rooms, it's ideal for banquets, celebrations and functions.
About Eaton, Hong Kong
Conveniently located on Nathan Road, Eaton, Hong Kong is only a few minutes away from the Jordan Mass Transit Railway while many famous attractions in the city including Temple Street and the Jade Market are within easy reach.
The hotel boasts 465 well appointed and custom-designed guestrooms and suites, three ballrooms, ten break-out rooms, a stylish E Club, six restaurants and an alfresco bar, which offer an array of culinary delights from around the world. It also features a roof-top heated outdoor swimming pool and gymnasium overlooking the famous Nathan Road - your perfect spot to relax.
The Eaton is part of an environmental conscious and committed management company based in Hong Kong. It has actively introduced environmental and social performance initiatives to reduce overall resource consumption whilst promoting efficiency and behavioural change amongst colleagues, suppliers, guests and clients.
For information on Eaton, Hong Kong, please visit hongkong.eatonhotels.com .
Reservations and enquiries:
Address :
Yat Tung Heen
Yat Tung Heen
Eaton, Hong Kong B2, 380 Nathan Road, Kowloon
2/F, Great Eagle Centre, 23 Harbour Road,
Wan Chai, Hong Kong
Opening hours :
Monday to Saturday
11:00am to 4:00pm and
6:00pm to 11:00pm
Sunday and Public Holidays
10:00am to 4:00pm and
6:00pm to 11:00pm
Monday to Sunday and
Public Holidays 11:00am – 11:00pm
Telephone :
2710 1093
2878 1212
For media enquiry, please contact: